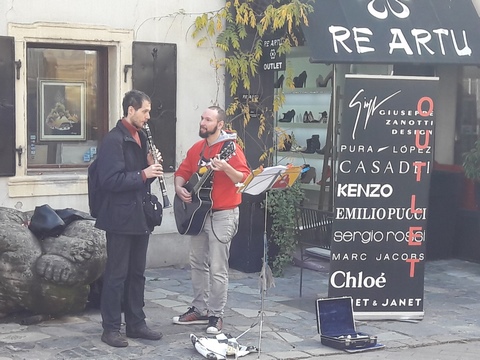 Tuesday 17th October – I'm on a Flixbus bound for Croatia for the first time, and its capital, Zagreb. If you recall I'm in a bit of a state on account of having mislaid my glasses and having left my breakfast burek on the counter of the kiosk in Nepliget Bus Station, Budapest. But luckily no bugger has sat next to me 🙂 But I do have some food – a couple of cereal bars left over from my marathon goodie bag, and the remains of Madeleine's Budapest chocolate stash. I quickly tuck into one of the cereal bars and polish off the chocolate. For sure the first place I'll be headed to in Zagreb will be the Central European equivalent of Boots the Chemist. The road takes us past Lake Balaton, known to us quizzers as the largest lake in Central Europe, and as we near the border, I sense it's time for the final cereal bar. I reach into my Budapest kit bag, where the last of the food is and joy-oh-joy … me and my reading glasses are reunited. Now I feel I can truly sit back and look forward to my three night stay in Zagreb.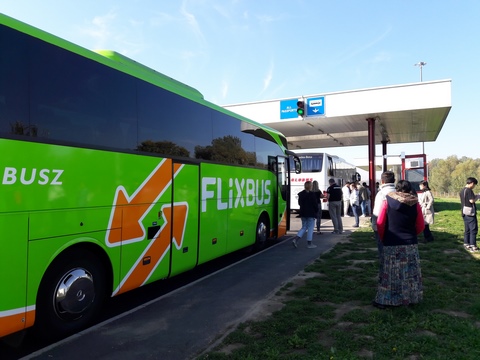 The border is reached. Schengen zone … my a**e. It would appear Croatia hasn't signed up. This really is painful – talk about jobs for the boys. It takes us a good half hour to cross the border. But we're still making good time. Onwards and we pull into Zagreb's autobusni kolodvor (aka the "bus station") just a few minutes after one o'clock. Still two hours before checking in to Buga & Ognjen's Zagreb Eye-panoramic view in center airbnb. Thought I might as well take a leisureley walk through the city centre and head for the apartment at the far side of the city. Google maps is doing its stuff, and I find a convenient mlinar for lunch in a park. I reach the flat dead on three o'clock. It is on the ninth floor of a tower block. It seems that in Zagreb you're not allowed to build anything higher than the cathedral, so this is one of the tallest buildings.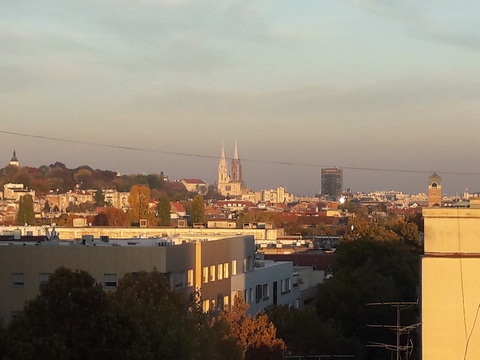 After a bit of a rest, I head back into town. The plan is to sort out a Zagreb card, which should cover public transport and a few other things, and maybe try to book some trips. I walk back to the main tourist office, who unable to sell me a Zagreb card (too late) or indeed help out much with trips. But there will be a free walking tour at 11:00 tomorrow, and I can get a Zagreb card from a nearby book shop. After, I head uphill towards the old town. This is a road with lots of bars and al-fresco dining opportunities, and at length I choose Lokma, for more falafels followed by Turkish coffee. And now, armed with the Zagreb card, catch the tram back to Mandaličina, stop off at Spar for some good old English tea-bags, and back to Buga & Ognjen's.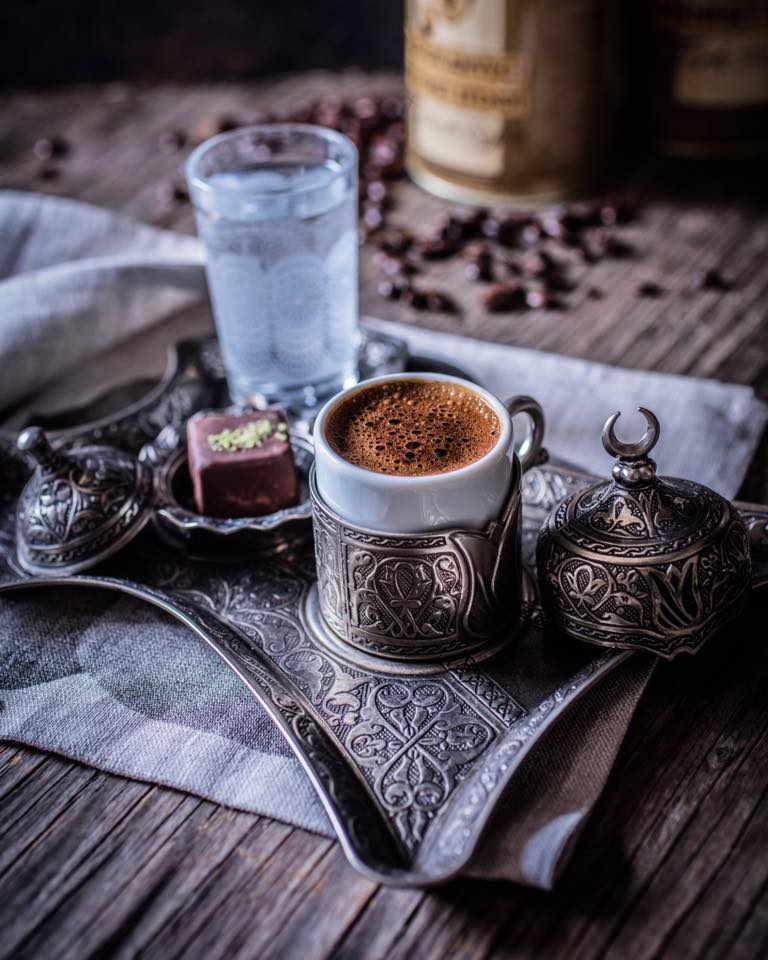 Wednesday 18th October – and a day's sightseeing in Zagreb. I head for the local bakery, Dubravica, for coffee and pastries, and catch the tram into town. The Zagreb card promises free entry into the interesting sounding Museum Of Broken Relationships. Strange quirky and generally well worth the entrance fee "… hoarders of objects beautiful, strange or downright odd". By the time I'm finished, there's just time to head down to the main Ban Jelačić Square, for the start of the walking tour. Our guide a Luka, with an engaging manner, a man-bun, and excellent command of the English language.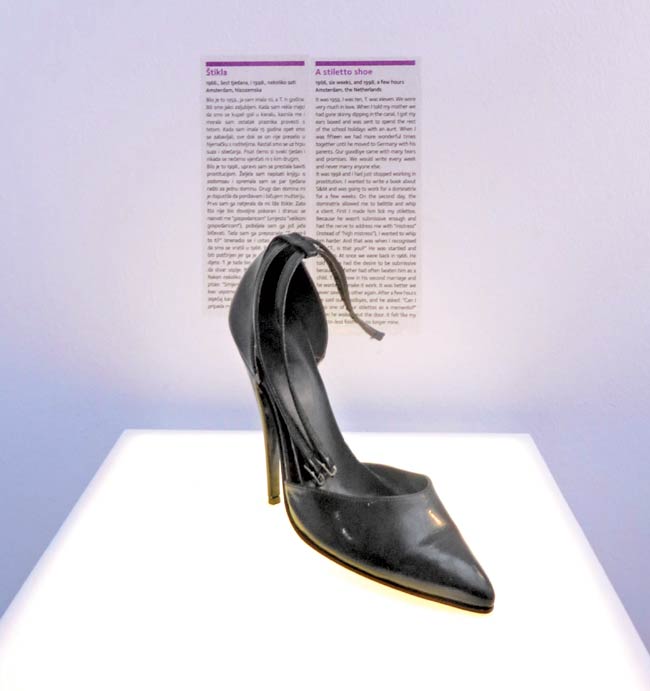 So what did the Croatian's ever do for us? The clue is in the name. Hrvatska the locals call it … I assume the "H" is a sort of a "C" – Crvatska – now we're getting close. Apparently Croatian soldiers were always sent about wearing a sort of a necktie (to remind them of their "loved ones" … and to hopefully deter them from straying to far from the straight and narrow). And apparently the Parisiennes rather liked them – and so the cravat was born. And today (of all days) it's "International Necktie Day" (hence the adornment on the statue of hero of the revolution Ban Jelačić in his eponymous square).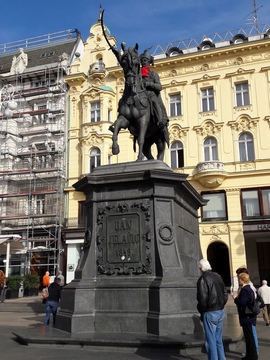 But back to Luka. We head up through the Stone Gate, the only remaining entrance to the old town. Apparently there was a great fire back in 1731 and miraculously the only thing to survive was a wooden picture of the virgin with child, which is now housed in its own little chapel inside the gate.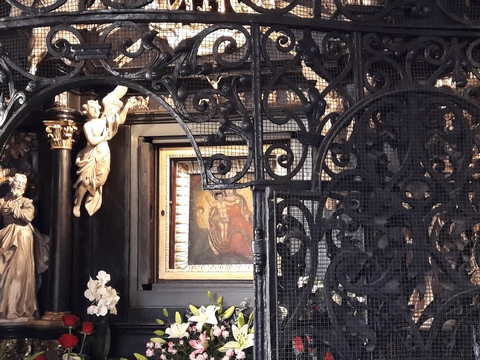 We head up to the old town square, which apparently is now the seat of the Croatian parliament. There we watch the changing of the guard. Apparently this normally only takes place during the summer, but this is a special one-off presentation for neck-tie day.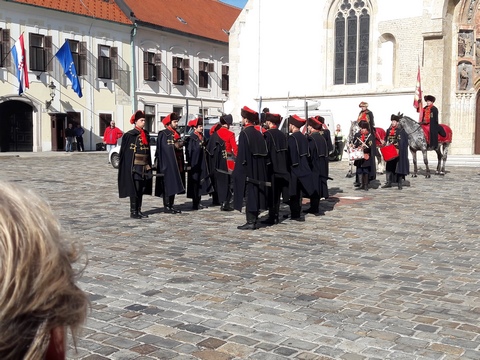 But midday is approaching and Luka takes us to see Zagreb's ceremonial midday time signal,the cerominial firing of a canon from the window of this tower. And afterwards the bloke whose job it is opens the window and is given a massive round of applause.
Now we head back down the road where I ate last night. It seems that, like Budapest Zagreb started out as two settlements, divided by a river. The smaller, Kaptol (from where we get the word capital), was inhabited mainly by clergy and housed Zagreb Cathedral. The larger, western Gradec, was inhabited mainly by craftsmen and merchants. Two towns depending on each other for trade and for labour, but with a love / hate relationship. And when they disagreed they typically headed down to the "bloody bridge" over the bloody river and killed each other. But the river has long since headed underground (to be replaced by the road – the one where I ate last night), hence no need for a bridge anymore. And here we were treated to a rather excellent acoustic version of Nirvana's "Smells Like Teen Spirit".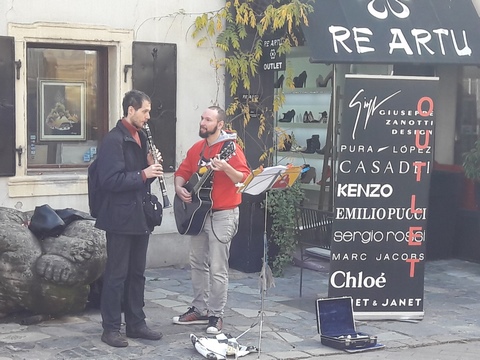 And then it's back to Ban Jelačić and the end of our tour. But conversation turns to marathons. David on the left ran 3:39 in one of his and then Meg, on the right let slip that she once ran a marathon … what time we asked? It was her local Rotorua marathon on New Zealand's North Island. "It was a bit hilly" she explained – hence she only managed to get around in 3:09 – yes you did hear me right … THREE OOOH NINE. She plans to head for Christchurch, where it is flat, to crack three hours 🙂 But she is a lot younger than me – a good reason why she should be so much faster? … but then she explains that her sixty year old dad paced her around that day!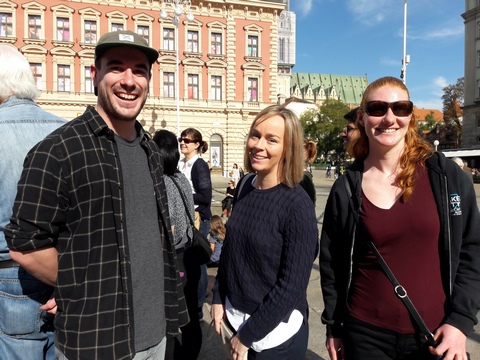 We lunch at one of Luka's recommendations, Heritage Croatian Street Food. Apparently this is run by a Croatian "Masterchef" winner. After that I decide to take a look at Zagreb's river, the Sava. It's a beautiful afternoon and surely the riverside will be a great place to visit. But the truth is it's not really Zagreb's river. It just jhappens to run close by. It's a nice place to walk (and would be a nice place to run), but there's little else there. And it's while I'm walking along the river side that matters start to come to a head regarding my impending new house purchase. This is threatening to put a bit of a damper on things, and I head back to the flat to make phone calls and do some soul searching.
But let's not let this completely ruin my city break. I head back downtown to sample Luca's other culinary tip, La Štruk restaurant for the local Štrukli, a cheesy, douchy concoction … apparently a dish that every Zagreb grandma would cook and that every Zagreb grandson would recommend.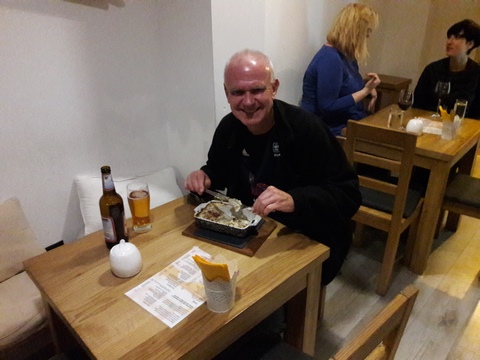 Thursday 19th October – and back to Dubravica, for breakfast. Well we wanted to visit Budapest's "House Of Terror" museum. But it was shut on Monday, so instead I decide to sample another Luka recommendation, Zagreb's museum of medieval torture! Hmmm – some interesting hardware there! And next I use the Zagreb card to gain free admission to the Zagreb 360° observation deck.I mean it's not exactly the Burj Khalifa, but like I said, it's not allowed to be taller than the cathedral!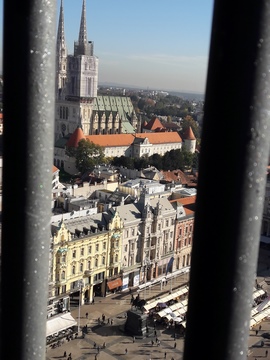 Have to say I was somewhat intrigued by this little message in the lift 🙂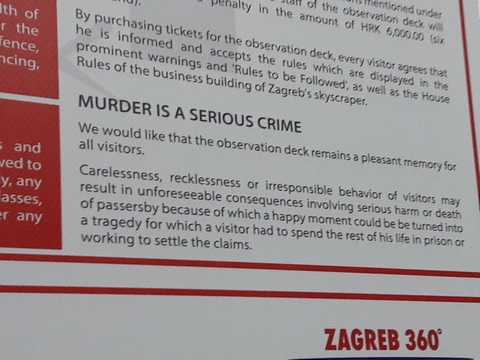 And speaking of the cathedral, that was the next thing to be seen. Apparently (according to Luka) they got the three massive chandeliers second hand from the Gold Coast Casino in Las Vegas!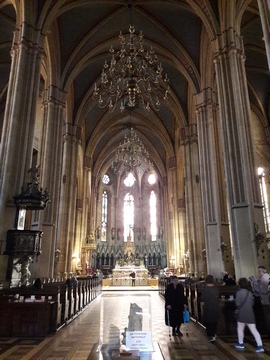 Hmmm – the plan for the afternoon was originally Luka's "War Tour" but I'm afraid at this point house purchase related matters totally took over, and the afternoon was spent largely on the phone, back at the flat. But after "close of play" I head out for a last meal – genuine Croatian pizza at Leonardo's Trattoria just below the cathedral.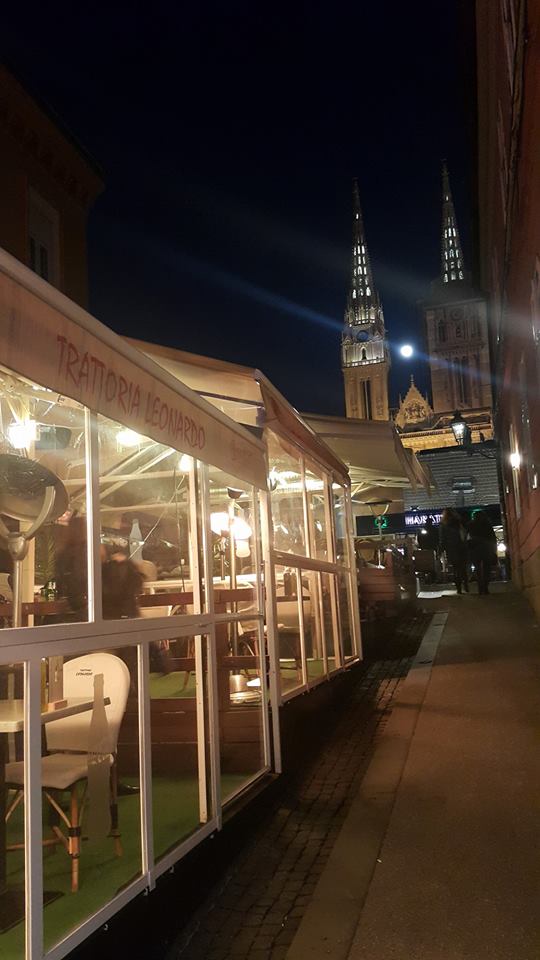 Friday 19th October – farewell to Zagreb, but first Dubravica, for another quick breakfast. The number six tram takes me all the way back to the bus station and this time plenty of time to stock up on coffee and bureks for the Flixbus heading to Slovenia, Ljubljana, and back home. And again no one sitting next to me … a double seat all to myself … luxury 🙂
Thanks for reading,
Keith