I grew up a total sports nut. I was out all hours kicking a ball around the garden or throwing it against a wall and whacking it with a cricket bat (seasonally dependent) and when I grew up I knew for sure that I would be a top racing driver. Cup Final day was so special and the first I remember was Spurs beating Burrnley in 1961. I became hooked on Tottenham Hotspur (a habit I later, happily, found remarkably easy to kick – haha), and Kent regularly played cricket locally at Blackheath. All I wanted to do was score – goals and runs. And so it was simple – my three sporting heroes, the king of goalscorers Jimmy Greaves, the man who made an artform of scoring runs, Colin Cowdrey, and just the best racing driver, Jim Clark.
April 7 1968 must have been one of those days I was out playing because I remember as plain as if it were yesterday mum coming out to break the devastating and unbelievable news that Jim Clark had died in a crash at Hochenheim. I mean, I knew that racing drivers died almost every day in those days, but surely not Jim – Jim who won every race he ever drove (in my memory) – surely HE, out of all of them, was immortal.
But it wasn't the Spurs that we went to watch – no it was our local team, Charlton Athletic. Now we accepted them as perennial under-achievers. Their natural place was near the bottom of the old "second division" (now the Championship) but I was lauded with tales of how "we used to be one of the best teams in the country" – culminating in victory at Wembley in the 1947 FA Cup final (mum was there!) and so we come to simply (in my memory) the best I ever saw in a Charlton shirt our young (well he's 69 now!) Scottish midfielder Alan Campbell.
Those were the days of George Best – "Beatle" Best – but Campbell had the haircut too, and on his day he could be the best too. Good Friday 1969 – in those days Easter was special in the football calander. Out of the blue, a Campbell inspired Charlton were threatening promotion to the old "first division" (now the Premiership) and today we hosted rivals Cardiff City. But (shock/horror) Campbell had been in bed with the flu all week and his participation was doubtful. But he made it onto the pitch and by the time he was withdrawn at half-time, our boys were 4:0 up! The then Cardiff manager, dour Scot Jimmy Scoular, openly lamented the fact that none of his team had the flu!
And then in my youth, along came the book "Real Men Don't Eat Quiche". Wasn't there something in there about real men being born within shouting distance of the football team they support? Woolwich Hospital for Mothers and Babies! I gave myself a firm talking to. Overnight Spurs were dumped and Charlton officially became my first love. And in those days we had the most ruthless of goalscorers – a true cult figure – I present "Killer" Derek Hales. He wasn't much of a footballer but God help you if you upset him. Fellow striker Mike Flanagan must have done once, because Killer hit him – on the pitch (they were both sent off!). He didn't "lead the line" particularly well. He wouldn't "hold the ball up" for you. He was no good with "his back to goal". But when it came to "sticking it in the net" …
I grew to adulthood and developed an armchair passion for Ski Sunday. And in those days there was just one man, peerless and fearless, Austrian Franz Klammer. I went skiing and was soon hooked, and it was (prior to the birth of Madeleine and Anneliese) surely the greatest shared love of my married life. And if you know me, you'll surely know that, for the past five years, I've rejoiced in becoming a "born again skier".
But there's something else. In the "noughties" I developed an obsession with watching the London marathon on the "red button" and that was for just one reason – I just LOVED watching Paula Radcliffe – it may sound boring – two and a bit hours just watching one person, metronome like, pounding out step after step around the streets of London – the streets of Woolwich and Greenwich and Charlton – the streets where I grew up – strangely hypnotic. I remember the great Michael Johnson being in total awe. In his world he was quite prepared to beat himself up for best part of a minute, but to do it for two and a bit hours????
And so grew inside me that strange desire to experience, just once, that experience. And in 2014 I did. And I came back for more. And Sunday will be my twelfth 26 miler. This is genuinely a love / hate relationship that I've grown to love. The three "me"s – head, heart and body in total disharmony – the discussions – the conferences – the compromises – the agreements – as we go about trying to achieve our (hopefully) shared goals – the pain – the joy – ultimately the ELATION.
Two years ago it was such a privilege to be there to support (alongside Hayley) Paula on her marathon swansong. I'm welling up now just thinking about it – to Paula Radclife – truly a most worthy inductee to this life's "hall of fame".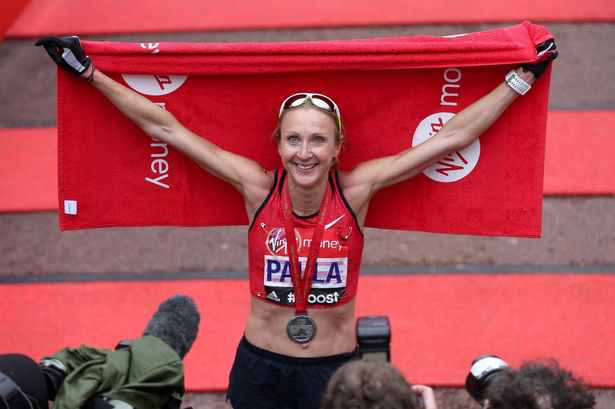 #egdonrunslondonforclic
Next stop Blackheath (and Greenwich Park),
Visit Keith's JustGiving Page if you feel inclined to make a small donation to CLIC Sargent.
Thank you for reading,
xxx / manhugs,
Keith