June 1st 2014
I recently returned to Crewkerne, the setting for my first ever "proper" run, last year, to see friend, former work colleague, and one of the people that inspired me to run, Tim Hoyle, and another crack at the Crewkerne 10k, a seriously hilly road race, with the biggest hill as the sting in the tail (but what a great downhill finish as the reward). Knowing what I know now, a totally different run this year and an improvement of nearly seven minutes. But still two and a bit minutes down on this lady – now there's someone to be inspired by. After the run I was chatting to a chap from the Axe Valley runners. We first established that (total coincidence) he was now sharing an office with Tim in his new job. Then further discussion revealed (more total coincidence) that he was a relative of (and London Marathon training run partner of) my blogging friend Michelle (Mrs) Bee!
For the record, finished 92nd out of 181 in 52:23.
May 19th,  2013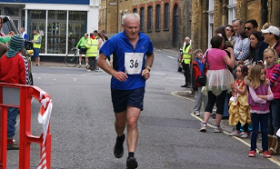 The Crewkerne 10k on 19th May was my first ever race. Thanks to my friend and work colleague Tim Hoyle for putting me up to it. A fairly hilly course, all on roads, starting off with a climb, which had to be done again (from the other side) as most of the ninth kilometre. Not too promising to be overtaken by a lady pushing a buggy (although she was taking part in the race). Pleased to break an hour, being officially timed at 59:06. So this is me "sprinting" at the finish, pretty impressive eeehhh?
Check out the run at Crewkerne 10k.