August 9th 2014
Saturday evening and a second trip ooop north for the Maiden Newton Madness 10k. I traveled up with Kim and Jim, and also Amy was running too. Bearing in mind the amount I had improved in a year at Crewkerne, a similar sort of race, I was feeling quietly confident. Surely I could knock a few minutes off last year's time, which would be a pretty good performance. I started off at a decent place, leaving Kim and Amy in my wake, and early on we ploughed up the worst hill on the route. I ran this well last year, and was feeling good. Before I knew it I found myself overtaking:
Nigel, soon to be member of the hundred marathon club, who finished narrowly in front of me last year. If I expected to improve by a few minutes, then this did not seem unreasonable.
EHH Club President Richard. He was below par, on the come-back trail from a cycling coming together with a camper van.
But the alarm bells should have ringing. Unseen to me the rotund lady was stepping up to the stage as the pack of cards started collapsing around my feet which felt like they were struggling through quicksand. Past flew Richard, Nigel and a bit later Kim. She was concerned, but I assured her I was ok, and that she should push on. I knew I'd be fine – just turned it down three or four notches and trotted home in a disappointing 1:01:18, as opposed to Nigel – 54:39, Richard – 55:49, Kim – 56:58 and Amy 1:02:06. But excellent cake, a good meal at the Trumpet Major in Dorchester and a lesson learned. Honest – I will never go off too fast again 😉
August 10th, 2013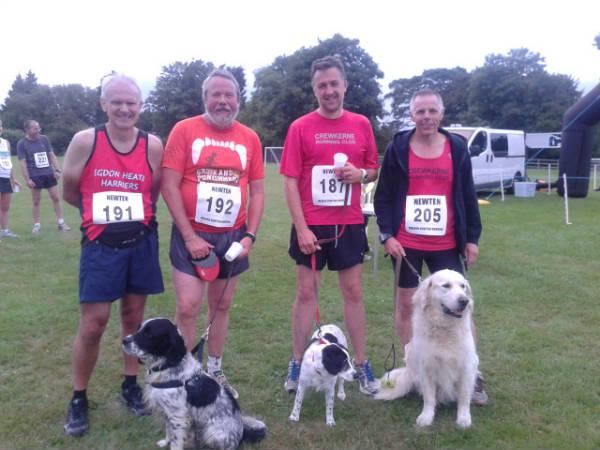 10 August saw me heading off ooop north (of Dorchester that is) for the Maiden Newton Madness 10k race. This was inspired by Chris and Tim who I share an office with, both of whom have completed marathons. This was (apparently) a most picturesque course (afraid I don't think I'm yet in a position to soak up the surroundings when pounding out the miles), taking us out around the village of Cattistock. Again it was about half and half road and off road, and quite hilly (and muddy) in places.
This race marked the official running debut of Chris' new training partner Beans. Therefore it was a new PB for Beans, indeed he was first in his class, being the only dog to complete the course. Unfortunately Beans does not yet appear ready to fully embrace the fame and adulation that such a performance deserves, since he was clearly far more interested in what was going on to the side than in the hoards of paparazzi.
Well, I reckon this particular course was probably much closer to 11k than 10k, particularly since I forgot to start Garmin right at the beginning. You can check out my log if you like. I was officially clocked at 58:06. That was all the justification I needed to reward myself with an Indian takeaway at the end of the long trek back down south.