June 2nd, 2013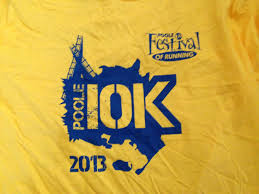 My second race was the Poole 10k, part of the Poole Festival of Running. The was a nicely flat course mostly around Poole Park. Very flat, making it a faster course than Crewkerne, but quite a hot day, and lots more people racing, which meant that, since I elected to start near the back, probably took a good minute to get through the start. Encouragingly spent most of the first three or four kilometres overtaking people, before settling in behind a very mature looking chap. But around half way he left me way behind in his wake. But it is true what people tell me, that you can run quicker in a race, when there's people to follow as opposed to when you're pounding the streets "tout seul".
Well, I've searched for the results and the web site seems to suggest that they are still pending! I'm sure that wasn't always the case, but I can't for the life of me remember what my official time was, though it was a few minutes quicker that the Crewkerne run. You can check out the run at Poole 10k.
No exciting action shots this time. But I did come by my first ever free tee-shirt. Nice colour!!!