Sunday 17th August 2014
10:30am on Sunday 17th August 2014, and the Royal Manor Of Portland Athletics Club Round The Rock 10k. This was just a week after my not very good Maiden Newton Madness 10k, and in the interim week I attended a blood donor session. The duty nurse looked very familiar. I recognised Gail from EHH, (yet) another remarkable runner, now having passed 60, and one of the top runners in the county in that age group. And then in walked Nigel, also in his 60s, who is well on the way to joining the 100 Marathon Club, and who would be doing the Dorset Doddle (32 miles of coast path, Weymouth to Swanage) the next weekend. But experience indicates that it takes between one and two months to get my running back to where it was before donating.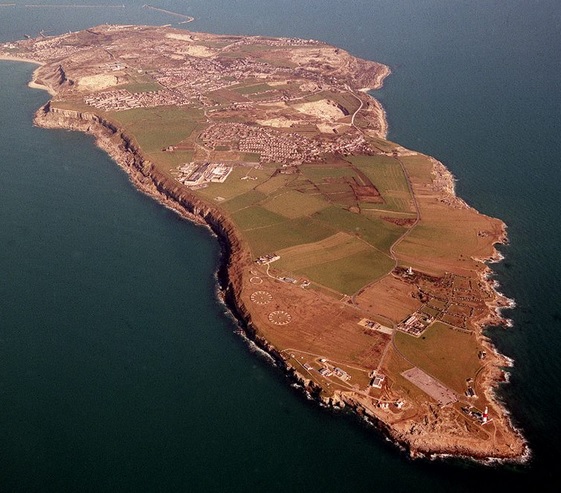 Sunday morning I was picked up by Jim and Kim Fudge and we headed for Portland Football Club, where the run was based. I was not expecting it to go terribly well. From the start we headed out towards the Young Offenders Institute, then back to the main route around the island. From there a long steady downhill stretch to Southwell, near the South of the island. Kim was running alongside, but as I started to up the pace, Kim was dropping back. As the EHH tag line states "flat on the average". In other words, if you start and finish in the same place, then for every bit you go downhill you will have to do the same uphill. A cunning plan was evolving. I knew uphill would be a struggle, so  the plan was to drag Kim along to the bottom of the course, and hopefully help her to a good time.
And I guess that's what happened. As we headed uphill, I had to stop and walk. I told her to push on, and as I struggled uphill I could only watch as she disappeared into the distance. Eventually we reached Portland Heights at the top of the island, and from there a short stretch downhill to the finish. For the record, Kim came in a good 39th out of 95 in 52:59, and won the prize for first 40+ lady (though it should be noted that the first 50+ lady went round in about 44 mins!), and I trailed in 44th in 54:53. But we were awarded a very nice, florescent yellow, souvenir shirt, which will be just the thing for running during the winter.