Sunday, November 15th, 2015, 10:30 and the Wimborne 10, based at the little village of Pamphill. Yet another run that I was talked into by Mrs Kim Fudge, but sadly Kim is now laid up with a bad back and has given her place to her friend Amy. But also a run that comes with rave reviews, and which was fully subscribed. I picked Amy up in good time and headed eastwards. The weather was awful – lots of heavy rain. We didn't really know where to got, but race parking was signposted as we approached the town centre, and we parked in one of the central car parks, and walked off towards the start. An unexpectedly long walk, culminating in a steep uphill. Certainly no need to warm up.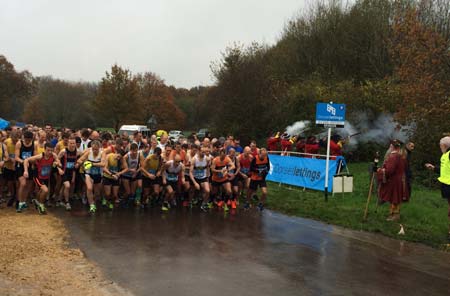 The start was narrow, but with no chip timing, I have no pretensions to start anywhere near the front, so we positioned ourselves near the back of the pack, and therefore a slow start. Towards the end of the first km, we headed off downhill and I started to pick up speed. People in the know had told me this was, on the whole, pretty flat, but going back up this hill would be the "sting in the tail" 🙁 As we headed on I caught up with Karen from EHH and also my new Thursday evening swimming lessons friend Michael from Weymouth, St Pauls. To be fair, he had run a marathon the day before!
It soon became clear that, by my standards, I was having a good one. I started to push it, and was bashing out km after km at around 5 mins/km pace. And then, as we hit the 11 km mark my on board computer gives me that usual message – just a parkrun to go 🙂 – you're feeling good – push it – push it. According to Garmin 5:02, 5:03 and 5:01 for the next 3 km, but then the hill starts to kick in. But I still felt strong and still ran the next two km in 5:17 and 5:16. Then as I go to the great avenue of trees that lead to the end, I was intercepted by John from EHH imploring me to "go for it". I still retain an element of guilt about overtaking people at the end of a run 'cos I figure if they're ahead of me then, it's not like they've really mis-paced it, therefore they deserve to finish in front of me. But this time I went (for me) really hard from 400m or so out, and overtook a few people on that last section.
So (for me) a really satisfying run. Looking at the stats I can't help wondering what sort of time that might have been able to get around (for instance) the Bath Half on a day like that. Certainly ought to be able to get down towards 1:45. For the record, placed 247 out of 465 in 1:22:49 (including time to get over the start line). Amy was also delighted with her run, finishing in 1:33:46. And as for the (free) cake at the end. A morning well spent 🙂