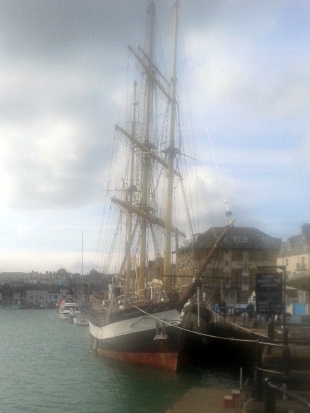 First ever half marathon last Sunday, great run on Thursday, and all my office mates happy to donate to my chosen cause, children's cancer charity CLIC Sargent. Sadly one has also donated the office cold. Sniffle started on Friday, sneezing this morning, and a hint of a dodgy tummy to boot. And today one of my planned proper runs, my own club the Egdon Heath Harriers' Weymouth 10 (miles that is). What would Mo (or Paula) have done I asked myself? (well I suspect I know what Paula would have done). Given that I currently plan to only ever run one marathon, well if I'm a bit under the weather on the 13th April next year then surely I would still go with it, so go with it I did 🙂
Set off at a far more sensible pace this week along Weymouth's glorious Georgian seafront. You won't be surprised to learn that part of the course is pretty flat. And then the tricky bit – two laps to Bowleaze Cove and Preston – anyone who knows the far end of Weymouth will know the road to Bowleaze is quite a hill, which drops back down to sea level, with another hill cutting across to Preston (so that's four hills in all!). Luckily I managed to tag onto a nice lady from Portland who was running at a great pace for me – she started to pull away after the second drinks station, but I could still see her in the distance as I headed back along the Esplanade to the finish. Didn't feel great (but a hell of a lot better than last weekend) and speeded up rather than slowed down and finished in 1:26:04, which I was pretty happy with (see Garmin log here).
I finished just behind (and met for the first time) a club legend, the top over 70s runner in Dorset (I believe), who is now going to share some training plans as I consider how to get from half marathon to whole marathon.
I asked my elder daughter to get a good picture of me running. I rather hoped she might take one of me from the front.
T.S. Pelican was in the harbour this morning 🙂
All in all not a bad morning.