The Bournemouth Half Marathon was my first ever half marathon, on Sunday October 6th.
Why The B$%#?y Hell Did I Sign Up For This?
I asked myself numerous times that morning. Why didn't my running friends tell me not to go off too fast I questioned? (well actually they did, but did they really expect me to take heed?). It all felt so simple at the start, as I picked out various people to follow who seemed to be running at about the right pace – we skipped past numerous plodders, weaving our way in and out. Then at about 10k, the house of cards started to tumble – crikey can there really be at least as far still to go?
At this point I decided to play my trump card – the music in my head (various excerpts from Quadraphenia) was not working – cue Jerusalem – but even this greatest of all English anthems failed to inspire – I spent more time looking at Garmin than looking where I was going – it was a beautiful morning, but the magnificent views of Purbeck and the Isle of Wight sadly passed me by. The Bournemouth Marathon Festival – tag line "Running As It Should Be" – you're 'aving a laugh! But I gritted my teeth and kept going … and kept going … and kept going … until I was right upon my ultimate destination – Bournemouth Pier – salvation. Then I realised that I still had to run to the end of the pier and back – why oh why? Was it really necessary to build it that long? But I made it 🙂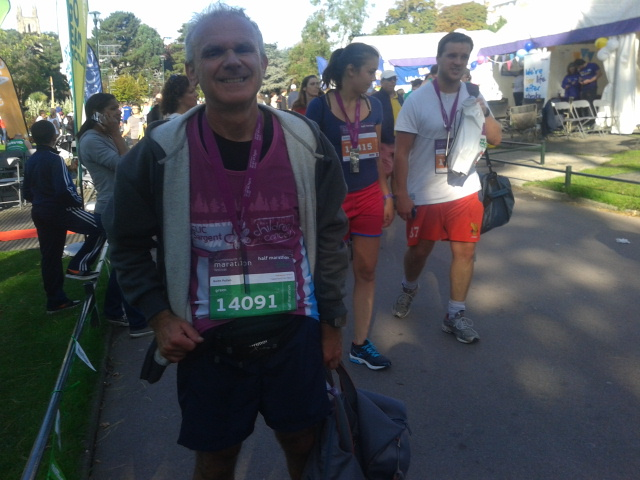 For the record, my provisional time is 1:54:44. Well when I set off on my skiing holiday in January this year (where – you may remember – stepping onto a set of scales set in motion this whole train of actions) if anyone had said to me that come October I would run a half marathon in under two hours you would have been able to knock me down with the proverbial feather.
And when people asked what time I was aiming for I replied that anything under two hours and I would be over the proverbial moon. 🙂 🙂
You can view the Garmin log here.
Well – Weymouth 10 (miles) next weekend – might just take that one easy 😉