This one all started with a trip to my friendly local solicitor's office. And a familiar face. I recognised Hayley from the Egdon Heath summer pub runs that I had started to frequent. Someone had mentioned the Sturminster Newton half to her – "are you up for it" she asked. Hmmm – a familiar pattern emerging – thinks – that's the day after I return from Cornwall – "Yes – of course" – so before I knew it, another half marathon to do.
Sunday 3rd August 2014, and an early start on a glorious morning and ooop north again along the wonderfully named Piddle Valley. I arrived and parked, and from there quite a walk to the start. And then another familiar face – Charlie – relatively newly married to Richard – the man who completed the Mont Ventoux challenge (three ascents in a day) whilst on honeymoon (Charlie only completed it twice – make of that what you will!). She doesn't seem to run often now, but was at a loose end, and what's more had cycled there from Weymouth.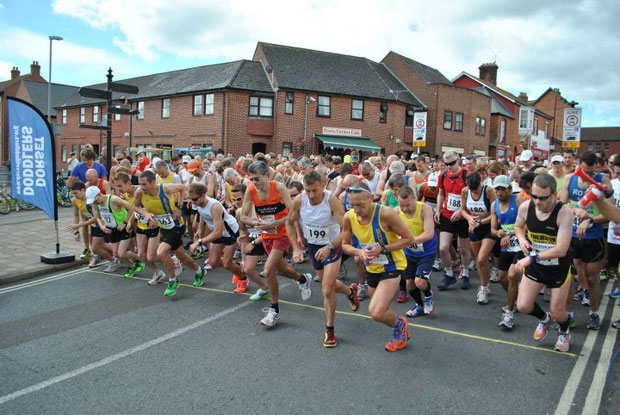 And then at the start I touch base with Hayley. She has come with her husband and her two little boys. She wants to know how I plan to run it. I plan to take it relatively easy – maybe around two hours (remember that). Can I stick with you she asks? She has run one half marathon before, in about 2:30 I think, but would love to break two hours. So the plan is hatched.
We head off at a steady pace. At one point a group gather behind us as we seem to be going at just the right place for them. They include Caron, the nice lady from Portland who I followed around the Weymouth 10 last year. But soon they want to push on, and they leave us behind.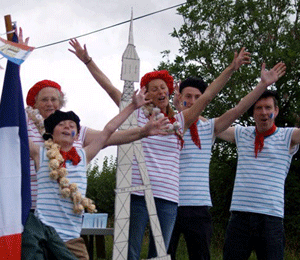 It is hot, and quite hilly. I remember being told that, on this particular run, the people manning the drink stations like to come along in fancy dress. It is quite hilly. I seek out shade wherever we can find it, and Garmin tells me that our steady pace is heading towards somewhere very close to two hours (remember that).
Sixteen km ticked off according to Garmin. Hayley is starting to find it tough. I am starting to find it tough too, but am trying not to show it. I revert to the old trick – "just a parkrun to go" – this time it's not just me that I'm telling. And as we reach the last 2km or so, it starts to go uphill. And carries on uphill. Surely we will start to descend soon. Keep going – keep going – your boys will be so proud of you. And still we ascend – into the last km – and ascend some more.
Then all of a sudden we turn onto a road. Downhill at last. Are we going to beat two hours? It's close – very close. We can hear the finish. And before we know it we turn into the field. And there is the finish with a giant timer over it. I see it reads 1:59 and something. And Hayley is gone. Crikey there is no way I can match that sprint finish. But sprint I do.
Well, for the record, Hayley did beat two hours – officially timed at 1:59:57. And as for me, placed 285 out of 420 in 2:00:00!. Not the worst bit of pace-making ever. And as for Charlie – 1:39:27 – that was pretty impressive. And the cakes afterwards weren't at all bad 🙂