29 March 2015
Despite achieving a PB at the Weymouth Half Marathon, it somehow did not feel like a satisfying run. It was all something of a struggle, and ultimately I felt I could have run faster had I been better prepared. And as the Paris Marathon "plan" said I could do another "half", and as the plan didn't actually suggest a target pace, and as the Yeovil Half was taking place this weekend, I signed up. Surely a chance to expunge the Weymouth run from the record book.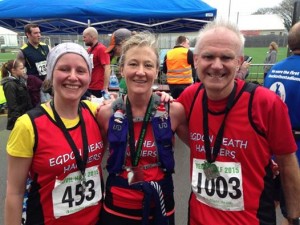 Fellow marathon trainees Charlotte (London) and Sue (Brighton)
But the run that mattered was not the Yeovil Half but the Paris Full. As Yeovil approached I started to think that maybe a full frontal assault on a PB was not really in order. I did have a tentative plan to try and run 1:58 which I thought might be useful to assist former work colleague Tim from Crewkerne RC to crack the 2 hour barrier. Or else maybe run at 5:30 mins / km.
The weather was not particularly clement – rainy and windy. We sort of agreed not to go with the 1:58 option. I ran the first km or so alongside Tim, and then pushed on to try and execute plan B and hold the 5:30 pace. After a slowish first km, we headed predominantly downhill and downwind and with the promise of a big hill (so big they have a separate "king-of-the-hill" contest) I decided to try and bag a few extra seconds early on.
As the run continued I found myself running just in front of a lady called Lindsey who seemed to be friends with just about everyone in town – very entertaining. We did a little loop and then Hendford Hill was upon us. Certainly I never was seriously in the running to be crowned king, but, about half way down the field, I don't think a single person overtook me going up there. The benefits of hitting those hills in the early weeks 🙂 Having gained the height, we quickly gave it back, and I followed my slowest km of the run with my quickest.
Then things started to get tough as we were heading uphill and into the wind back towards Yeovil FC where the run starts and finishes. But then a change of tack and we headed out into the country. But it was getting to be one of those runs where every stretch seemed to be uphill and into the wind. At every turn you thought surely the wind will change now – surely we'll be going down – but somehow we never seemed to do either. But what goes up must come down, and what goes out must come back in. Things were getting easier, and as the last mile and a bit approached I found myself running alongside Stuart from Shaftesbury. We chatted and the last couple of k's passed quickly and before we knew it we were back at Huish Park, and crossed the line together, just behind Charlotte from Egdon Heath Harriers.
According to Garmin I had executed the 5:30 plan perfectly. Also according to Garmin a new record for the shortest half marathon so far – a mere 20.99 km – more evidence that Garmin is not an exact science? For the record I finished in a very satisfying 1:55:14, 516th (but a few places higher on chip time) out of 1066, and 457th in the King-of-the-Hill 🙂