Sunday December 7th 2014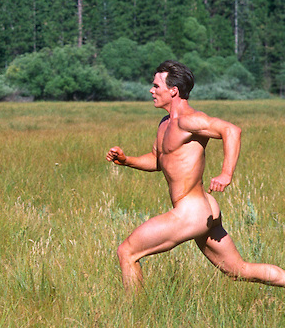 Hmmm – another of Mrs Kim Fudge's bright ideas. She rather liked the sound of this. "Ten hills in ten miles" and some of them so steep that you need a rope to help pull you up. So Mr Gullible and another friend from EHH April Whitehead have signed up for this and now Kim's bad back means she is unable to run. So I duly picked April up and we headed oooop north beyond Yeovil to Ham Hill iron age hill fort for Crewkerne RC's run. Former work colleague Tim was on photography duty.
It was well muddy when we got there, but we managed to get parked and poodled off from puddle to puddle to the start. As usual, didn't aspire to start anywhere near the front of the mass start and we were away. I soon learned that (certainly where I was in the field) walking (or pulling yourself) uphill was no problem. And the hills genuinely did become our friends, as they were actually a place to have a bit of a rest (strange as it seems).
As the run progressed, I was going alright, and found myself catching up a lady I recognised from Weymouth parkrun, Charlie from EHH's friendly rivals, the Maiden Newton Runners. And right in front of me she suddenly threw an item of clothing at a bank of spectators, exclaiming that it was her knickers! As I passed her I asked "surely it wasn't really was it?" – "nah – just my gloves" she exclaimed.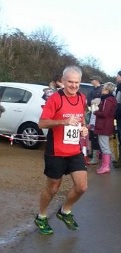 And then we came to a gate, and rather than open it everyone was climbing over. I presumed it didn't open and did the same. So when we came to the next gate and I saw the runners in front vaulting over I assumed the same was true. No gate vault for me! I started to climb gingerly over and before I know it the gate was swinging on it horizontal axis, and I was holding on for dear life. Eventually I let go and am dumped unceremoniously in the mud. And watch as the runners behind passed through the pedestrian gate to the side wondering what the bloke in front is on. Serious loss of street cred.
Ultimately pleased to finish in 142nd place out of 240 in 1:54:40. April, fresh from her New York Marathon triumph, came home in 2:12:40. And for the winners (and the also-rans) the spoils – a gourmet Christmas pud.