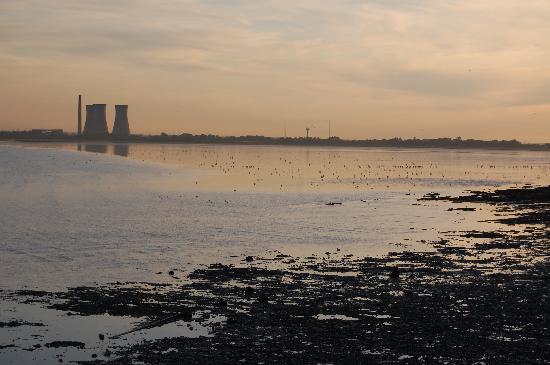 Two laps around the Pegwell Bay Country Park. A nice flat course, mainly on gravel, and because I reckon it's about 100m short, a great opportunity for a PB 😉
The picture shows the iconic Richborough Power Station in the distance which has since been dynamited to the ground.
1st January 2015
New Year's Day parkrun. And again running off the back of a blood donation. I know that me, blood donations, and good times don't sit well together. Took it relatively easily and got around in 25:39.
12th July 2014
First attempt at Pegwell Bay since setting my PB. Didn't seem to be going so well to start with, but got better and eventually brought it home in 22:54, regretting that maybe I could have pushed it more earlier on.
14th June 2014
This seemed like a pretty good opportunity to break 23 minutes for the first time. My plan was clear – use Garmin and try and get as close as I can to 4:36 min / km (and rely on the slightly short course to dip under 23 mins). On this occasion, executed the plan perfectly and timed at 22:45 🙂
19th April 2014
A week later, my first run since the London Marathon. Chatted to a couple of other folks who ran in London. Took it fairly easy and equalled my personal worst time from January of 25:25. Unknown to me I was coming down with flu at the time.
11th January 2014
First parkrun of the new year. Could I finally break the 23 minute barrier? They announced at the start that there would be some pace runners, and one chap volunteered to run 24 minutes. I would be well in front of him wouldn't I? The start was slow, as we couldn't start in the normal place on the grass, but I was soon catching the 24 minutes man. And that was that – I started to fall back further and further. There was just nothing in the tank. A solitary run ensued being overtaken by one lady towards the end, finishing 12th in a time of 25:25. Was this just a bad day out of the office, or still a reaction to losing very nearly an armful of blood on new year's eve? For the record the 24 minute man finished two seconds overdue.
2nd  November 2013
Returned for a second crack at the Pegwell Bay parkrun. Interesting to see how my time might have improved in the intervening four months. After the crowds of the Great South Run this was a strangely solitary run. It very quickly "shook out". After the first two hundred yards or so I overtook one other runner and then I was absolutely on my own. There was a lady in front of me (who I since learn was Zoe, the first lady finisher), who gradually pulled away as the run progressed, and no-one obviously behind me.
There was a major problem with the results, with the records of the finishers appearing to have been totally lost (felt so bad for the poor volunteers). Happily they seem to have managed to subsequently link many names with the times, and I finished 19th in 23:08. You can view my track here.
29th June 2013
This was first ever experience of running one of these free events held all over the country at 9:00 A.M. on a Saturday morning. At this time the closest run to my home was in Poole Park, so a visit to my mother's home on the Kent (the "Garden of England") coast provided a chance to take part at the nearby Pegwell Bay Country Park.
I kept up a pretty steady pace and started to overtake a number of people in the second half of the run. Right at the end, I could easily have overtaken the bloke in front, but thought I would be kind to him (since I really didn't like being overtaken by people who were sprinting at the end of  other races). It turned out that had I gone past him I would have actually won the male 55-59 division. Next time I shall be totally ruthless! (this is of course put into context by the fact that fastest 60-64 runner was over three minutes faster).   🙁
You can view my track here. I was officially clocked at 24:02.