The first Weymouth Park Run took place on Saturday, 31 August 2013. The course starts in the Lodmoor carpark and goes twice around the mini golf and mini railway in Lodmoor Country Park. But half way round the second circuit we head north, up past the Rugby Club, up to the Park and Ride, around the town's "welcome pineapple", then back to the park, complete the second circuit, and finish back in the car park.
As much as I enjoy running, it's just as much (or maybe even more) fun helping, and since I've not run on a Saturday when marathon training, I'm quite happy to volunteer then.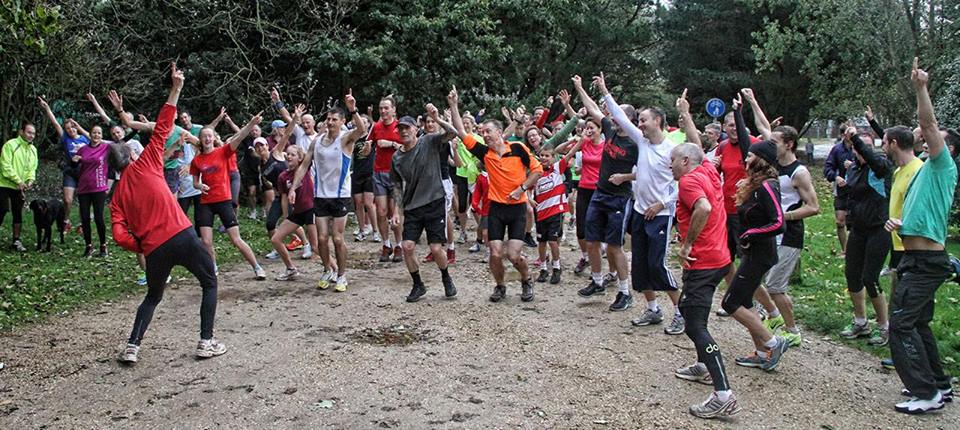 And as part of the warmup every week, we perform the famous "Weymouth Wagga" 🙂
Saturday 28th February 2015
The Paris marathon plan called for an easy four miles on Saturday. I opted to perform the 30 minute pacer role at parkrun.
A special run as daughter Madeleine, training for the Hackney Half Marathon, followed me around for her first ever parkrun and went three minutes faster than expected. And a slightly more experience parkrunner, Marjory Bluer, followed me round for her 269th and achieved her best ever parkrun time. Marjory is a regular at the daddy of all parkruns, Bushy, and it appears we have run together before, the day I ran Bushy, 13/12/2013. Things like this that make me love parkrun 🙂
Saturday 3rd January 2015
Planned to pace Norma Smart around in 29 minutes. Also felt privileged to have Simon Arthur, son of soon to be 100 marathon club member Nigel, run with us recovering from a broken back! Unfortunately we didn't quite get the pace right, and finished in 31:00.
Saturday 21st December 2014
Last run of the year. Really wanted a crack at a PB, but after the first km, couldn't keep up the pace, and finished in 23:29.
Saturday 29th November 2014
Been getting gradually closer to my PB this last few weeks. I was dragged around by Frances Johnson here and knew I had cracked 23 mins, but ultimately just 4 secs shy of it in 22:49 🙁
Saturday 22nd November 2014
Would love to have been able to get below 23 mins again, but didn't quite make it, finishing in 23:06.
Saturday 8th November 2014
A but slower on this run, finishing in 23:47.
Saturday 1st November 2014
Aiming to get quicker week on week, and home in 23:30 this time.
Saturday 18th October 2014
Again, aiming to get faster, and finished in 23:42.
Saturday 11th October 2014
First run for a good few weeks and want to try and get back towards where I was when I managed my PB. Aimed for around 24 minutes, and actually finished in 23:59.
Saturday 23rd August 2014
Something a bit different here as I run with Anneliese, who complete 5km running for the first time ever. Timed at 41:51.
Saturday 15th July 2014
But this one was definitely for me. Maybe significant that I didn't have a functioning Garmin to refer to, as I finally manage to crack the 23 min barrier, finishing in 22:45 (exactly the same time as that achieved for the Pegwell Bay Course, although I reckon Pegwell Bay is about 100 m shorter).
Saturday 28th June 2014
Something a bit different again, as I volunteered to pace run for Mrs Kim Fudge and hopefully drive her to a PB. The plan was to get to 24:30. A pretty good effort as I finished in 24:34. Kim delighted to finish with her new PB in 24:32.
Saturday 31st May 2014
Anneliese's first ever parkrun. She has been following a 5k app on her phone, and we run / walked around. Finished in 46:48.
Saturday 17th May 2014
Slower run today in 23:54.
Saturday 10th May 2014
Something a bit different here as I volunteer to be tail-gunner. 101st (and last) finisher in 37:15. Really enjoyed doing this, and I think the lady I was running with appreciated it too 🙂
Saturday 3rd May 2014
Fastest so far, getting round in 23:18. Determined to get under that 23 min mark some time.
Saturday 16th November 2013
Another go at the Weymouth parkrun on a glorious, crisp, sunny morning. Having been on the phone to a local supermarket regarding fund-raising I arrived in a bit of a rush and got off to a slow start. Clocked at 23:25, 5 seconds faster than last week. But I reckon there's still plenty of scope to improve 🙂
Saturday 9th November 2013
Finally got around to running the Weymouth parkrun for the first time. A miserable rainy morning, with a good deal of rain during the week, meant that there was a fair bit of paddling mixed in amongst the running. The run starts in Lodmoor Country Park, running around the miniature railway, before heading away up past the Rugby Club, round our welcome pineapples, and back to Lodmoor.
I completed the run in 23:30, so failed to improve my PB from last week  🙁  The winner was in the VM60-64 category in a time of 18:51 and an age grade of 85.06%, which I guess is pretty impressive.